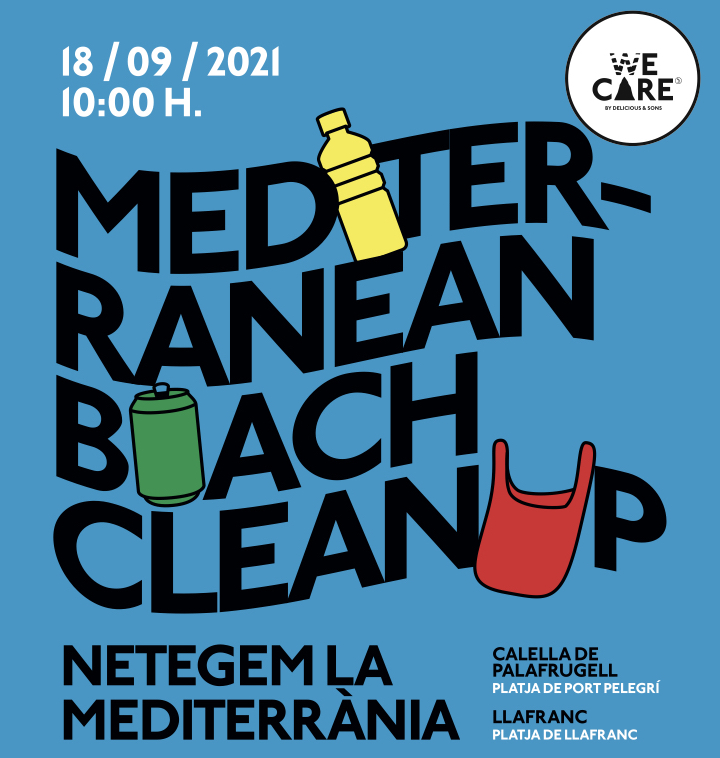 Join us for the 3rd Annual Mediterranean Beach Cleanup in Palafrugell, Costa Brava, Girona.
You can choose to participate in Calella de Palafrugell or Llafranc. We will clean the beaches, the bottom of the sea and the surface of the sea.
Click here to sign up:
https://www.deliciousandsons.com/impact/mediterranean-cleanups/
You can choose if you want to clean the beach on foot, or if you want to clean the seabed (only for certified divers) or clean microplastics from the sea surface on a stand-up paddle board (in Platja de Port Pelegrí, Calella de Palafrugell) or by kayak (Llafranc), along with the young activist, Olivia Mandle, and her microplastic filtering device, "Jelly Cleaner", www.oliviamandle.com.
The activity is totally FREE!
And as a gift: we have a super cool official event organic T-shirt and an eco-friendly gift bag with discounts for all participants.
Thank you to the l'Ajuntament de Palafrugell and the Department of the Environment for their help and for co-organizing this necessary and amazing event: @ajpalafrugell @mediambient_ajpalafrugell
Thank you also to our collaborators: @poseidoncostabrava @customsailingcb @tritondiving @barracuda_diving_llafranc @tourist_service
This year we are enormously grateful that the Jane Goodall Institute and its educational program, Roots & Shoots, will join us. @JaneGoodallEspana @raicesybrotes_esp
Do not forget to bring your old cellphones to help in their cellphone recycling campaign "Mobilize through the Jungle" https://www.raicesybrotes.org/movilizate-en-escuelas
Thank you to all these amazing mission-driven brands for joining us:
@supermercadosveritas @flaxandkale @lossuperpoderesdelarte @grupo_consorcio @dosmares
@meandmecosmetics
For those of you looking for a hotel, these two hotels in the area will give you a discount if you mention that you are participating in the Mediterranean Cleanup.
@hotelmediterrani @hostalsateula
Thanks to all the collaborators who join us in the fight for a Mediterranean free of trash and a healthier and more sustainable planet.