We have been following Alf's path for a while now, but as usually happens to entrepreneurs that work from Monday to Sunday, it's hard to find time to network  as days pass busy with work we may not like, but still devoted to our idea. One day we talked with Ana, manager of the Terra Veritas space, and thanks to her we finally met with Alf.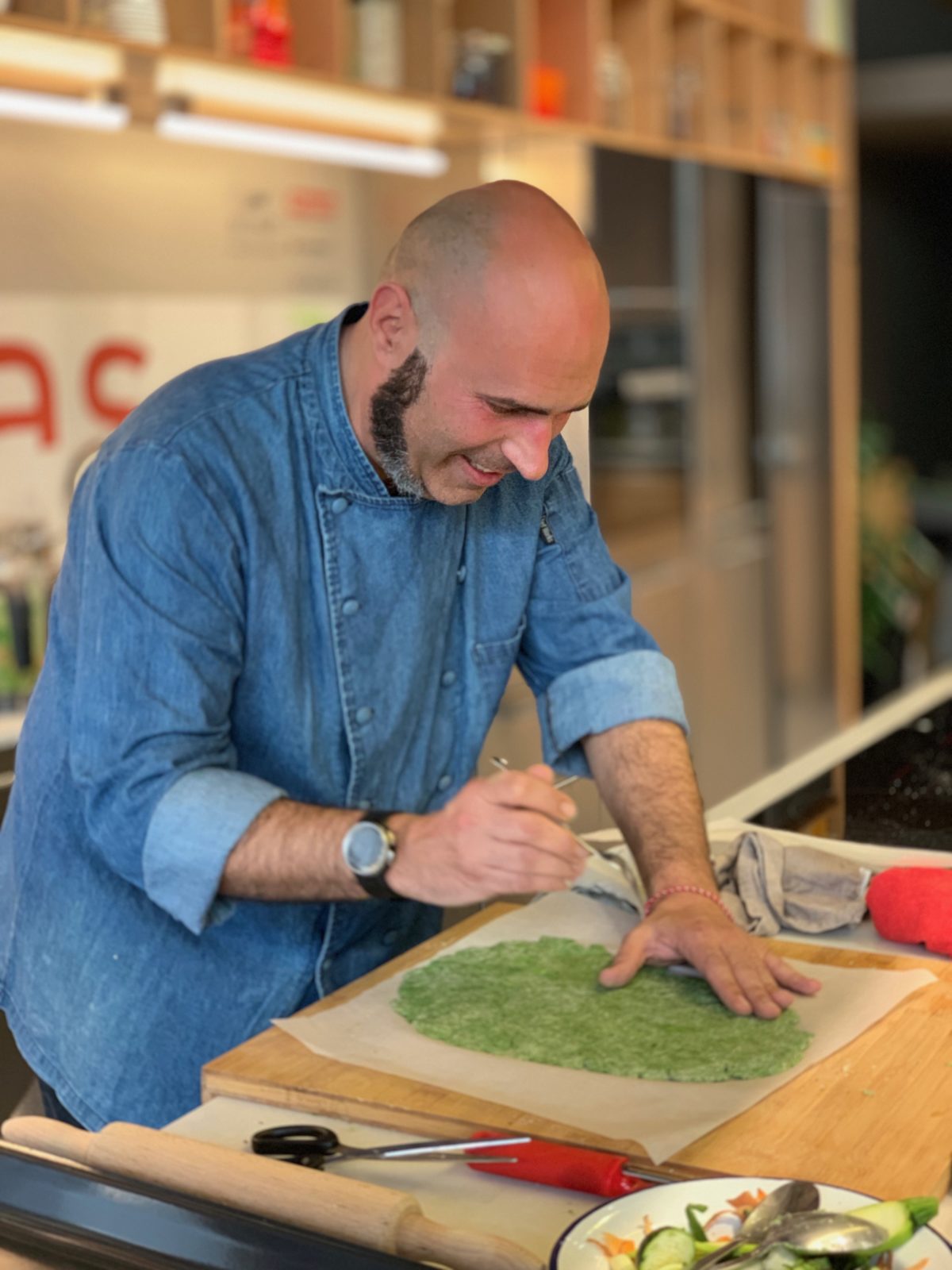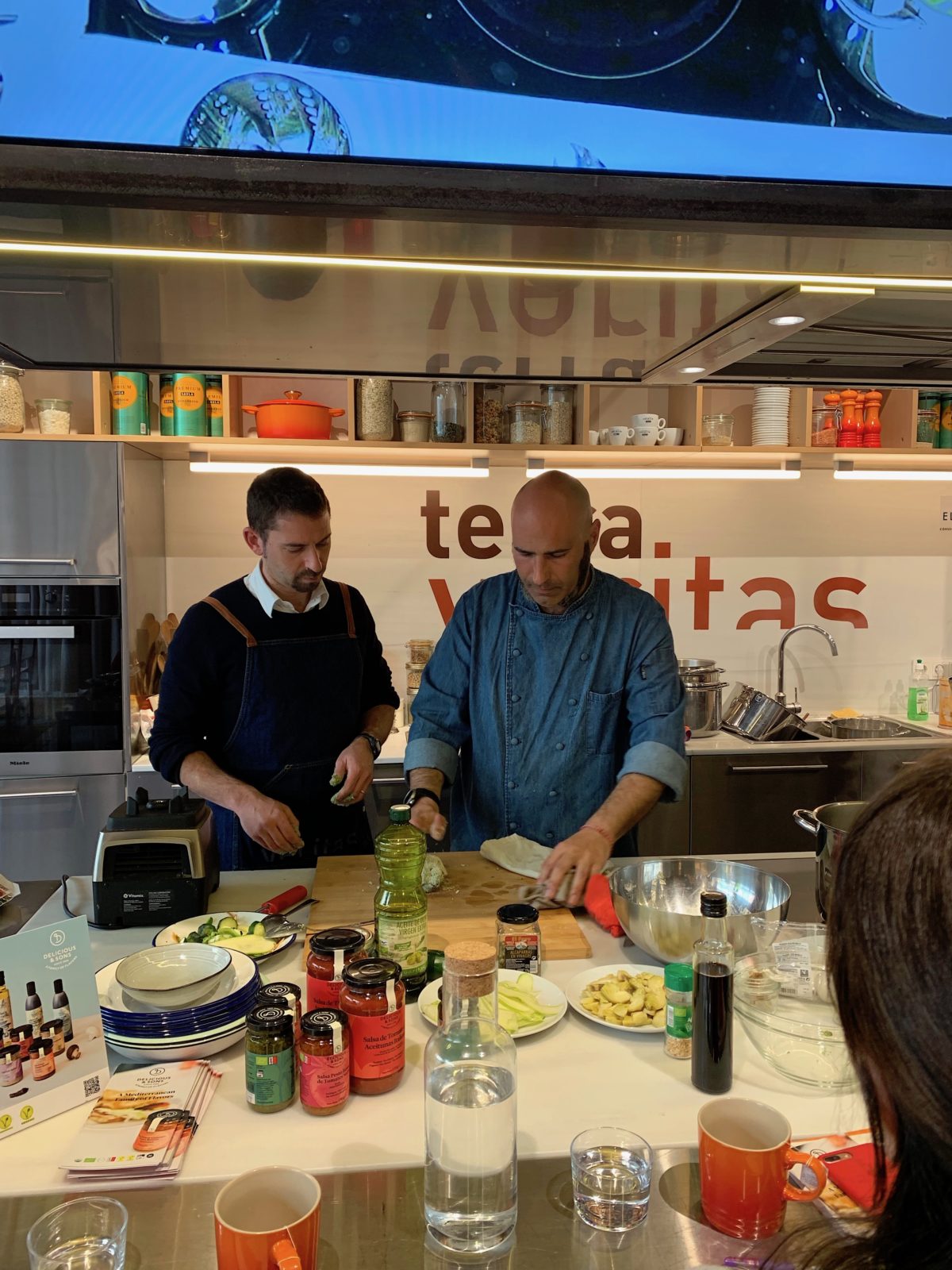 Working with Alf has been a pleasure, we met and understood each other immediately. He gave a marvelous cooking class where he reinterpreted Italian cuisine with super healthy recipes based on our products. The connection with Alf was amazing, but this is normal with those who work in this business: food brings us together. And from that cooking show, we created the material to share the amazing fusion we developed amongst Alf, us and our tasty products, filled with authentic, healthy Mediterranean flavor.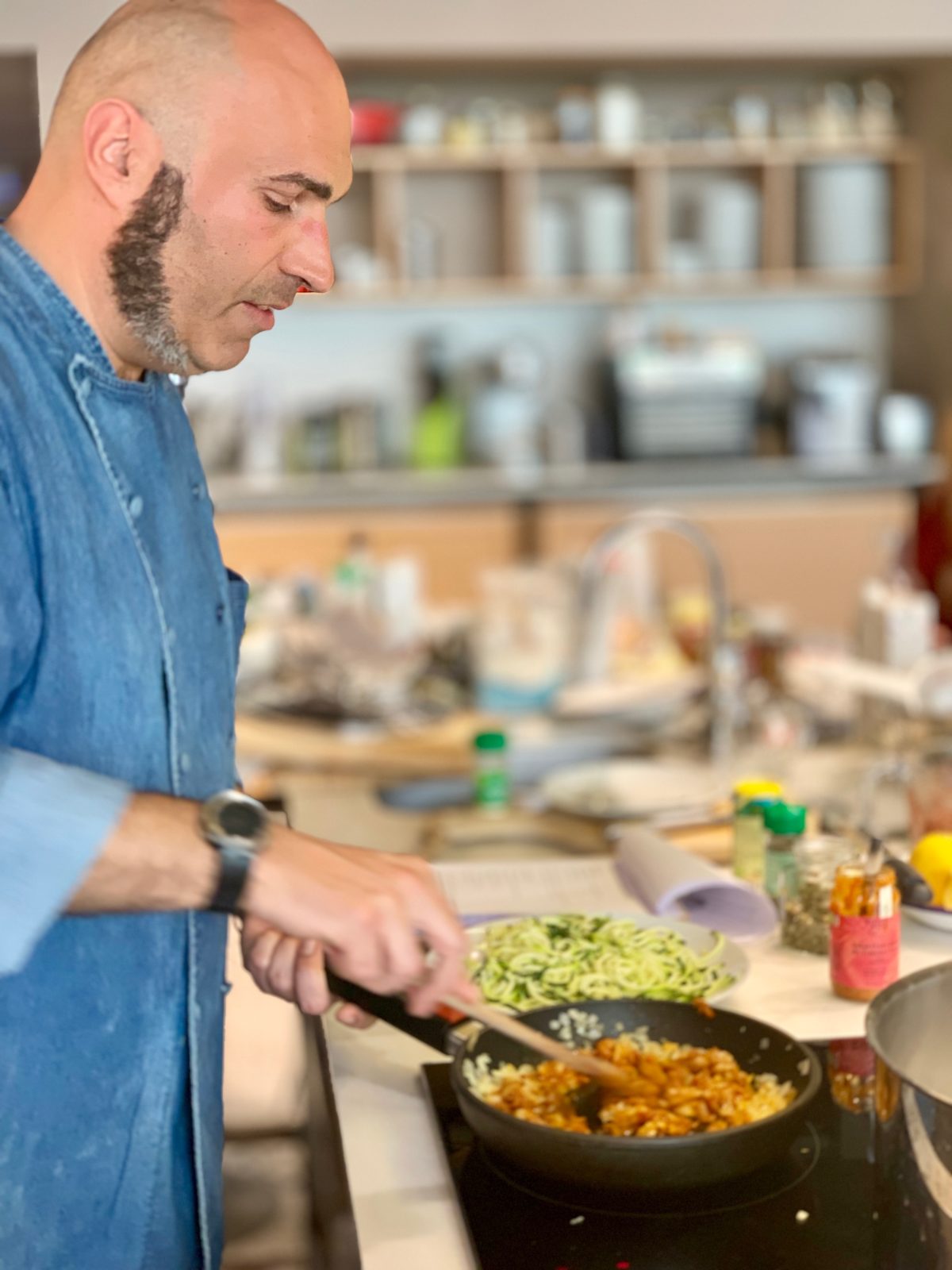 Alf has prepared this delicious and healthy recipes: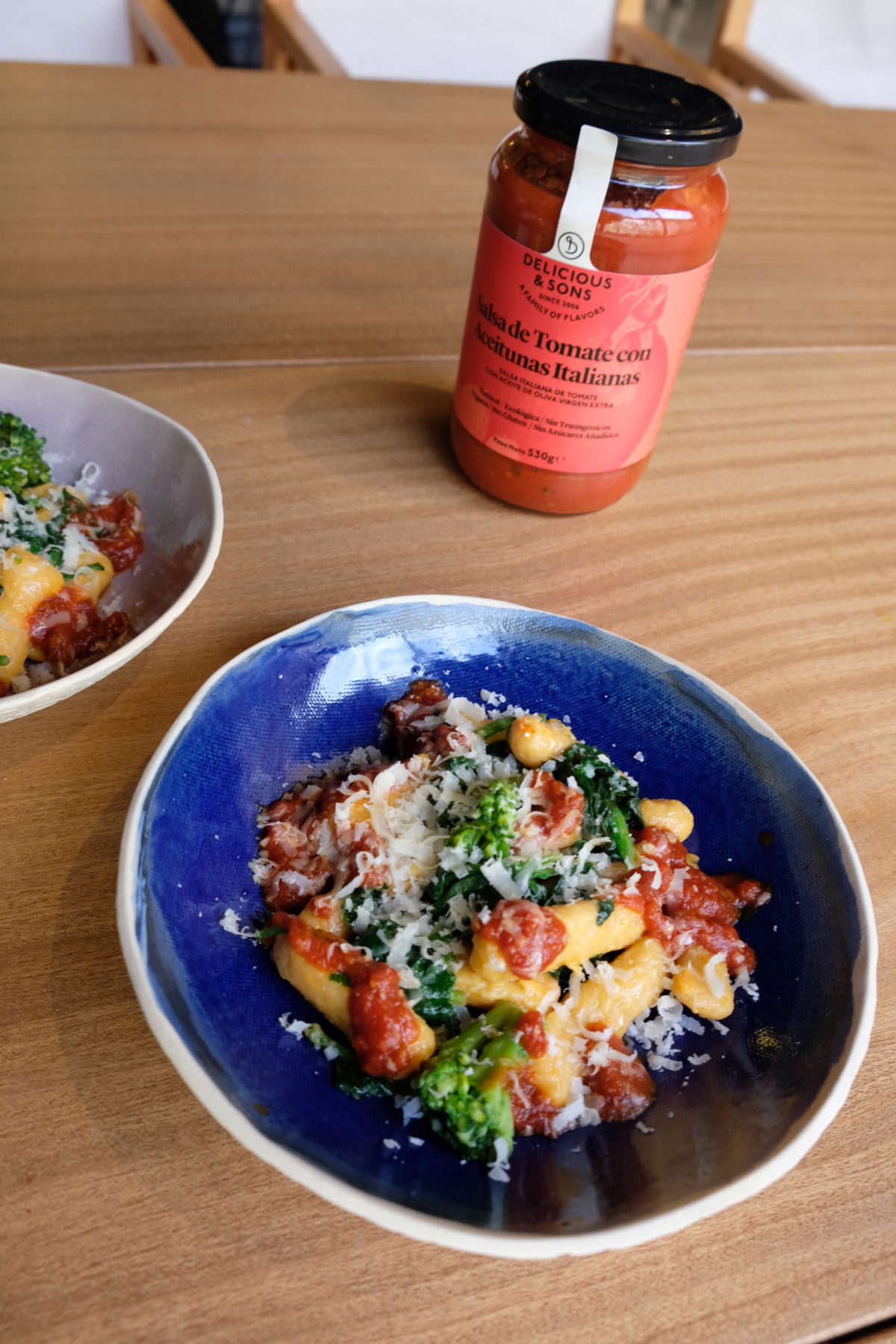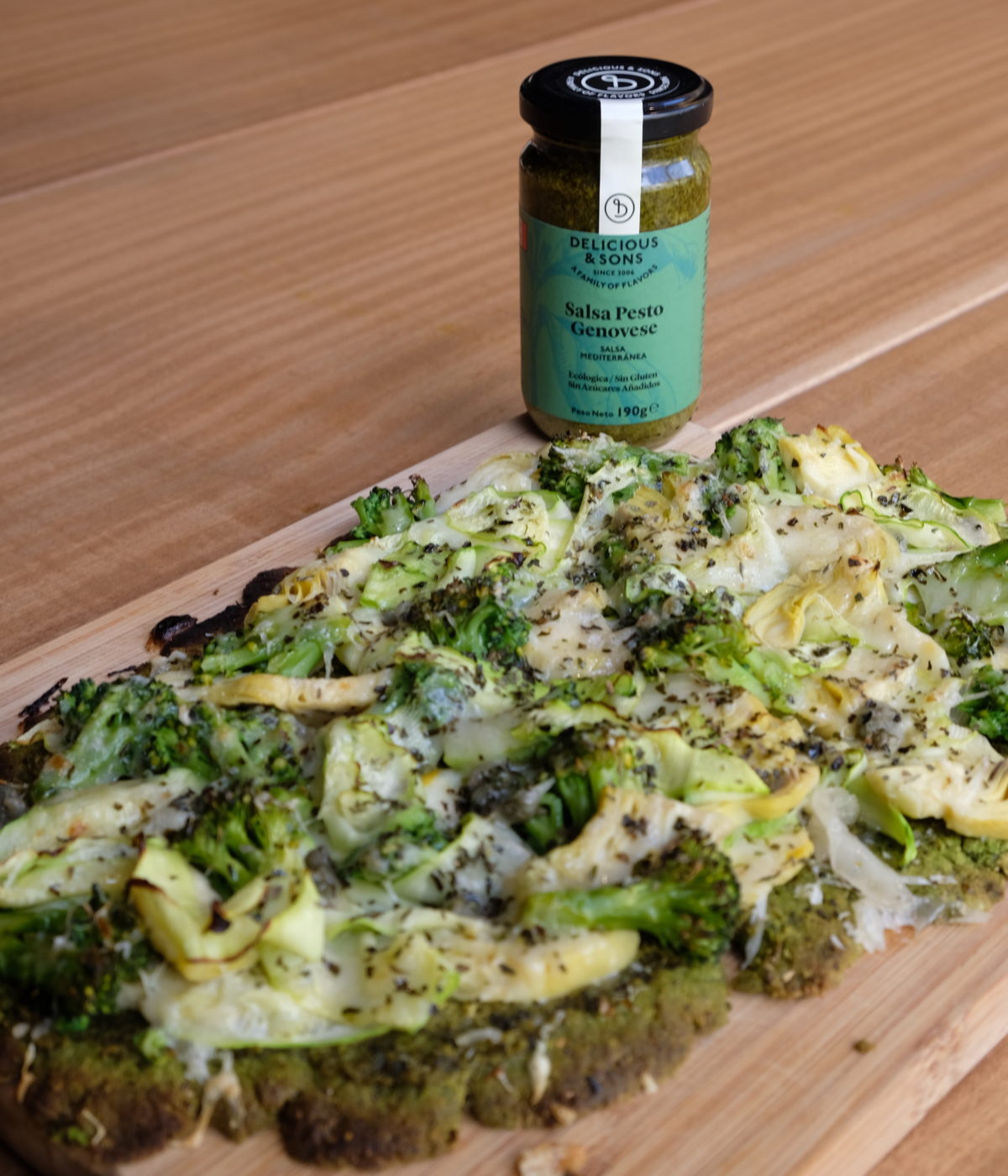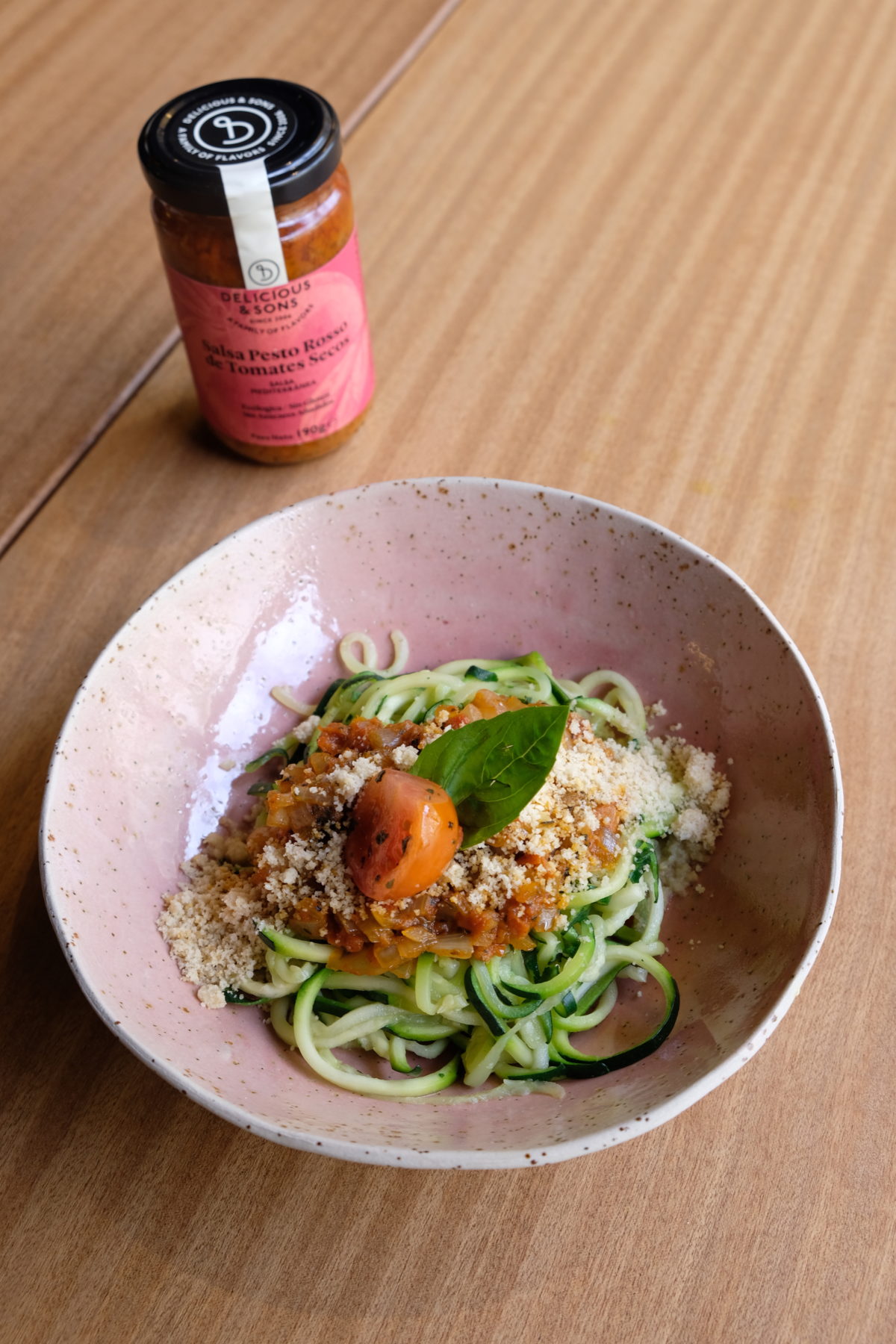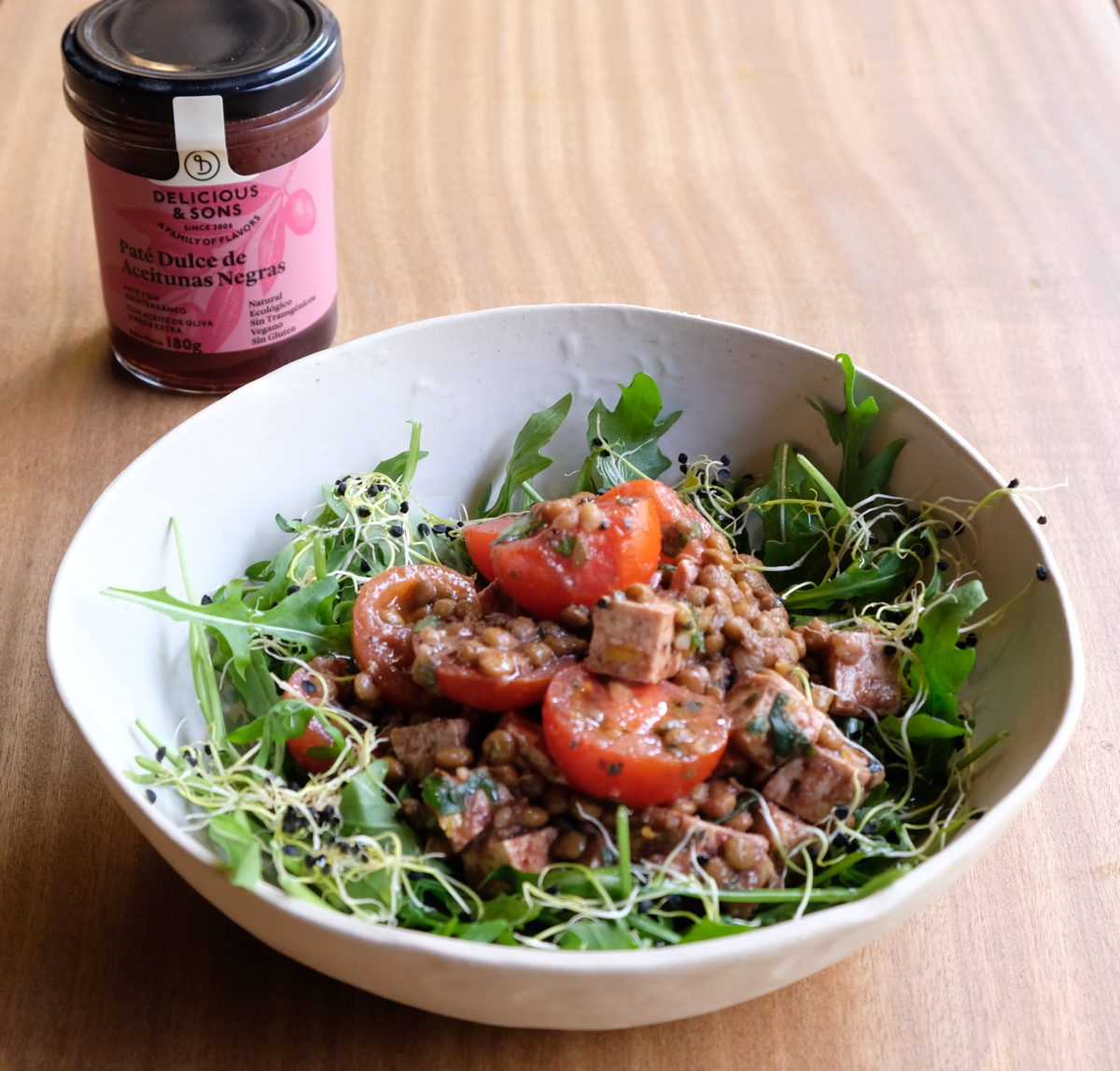 You can purchase the Delicious & Sons products used in these recipes by clicking here.
In an interview format, we let Alf express in his own way his unique and extensive biography that makes him so special. 
Where is Alf from, where did he grow up, where did he study journalism, and how did he end up being a chef? What is his interest in languages? And why healthy food? 
 I was born in the Azores Islands (Portugal), and travelled, and lived in several places all over the world until I settled in the Montseny (Barcelona) about 10 years ago. I am a specialized chef in healthy and therapeutic cuisine. Therapeutic cuisine helps with the prevention of diseases, maintaining good health, can transform lives and help overcome physical, mental and emotional imbalances. I am a culinary teacher and promoter of healthy and balanced eating. I have studied macrobiotics, oriental medicine, nutrition and dietetics, diet therapy, agroecology and communication. I am a vegan chef distinguished by the Spanish Vegetarian Union and member of the EcoChef Spain team. I regularly give cooking classes and seminars in different schools and training centers In Barcelona, Madrid and Girona. Also I give personalized therapy cuisine classes for individuals, with a complete dietetic counselling. I create content about healthy food and sustainable and ecologic gastronomy.  
 Throughout my childhood and teenage years, I never thought I would work in the food sector, since in my family there is a long tradition of professionals dedicated to the catering, restaurant, and tourism industry. I literally grew up in the kitchen and even though I have always loved to cook and enjoy a good meal, back then I wanted to work in the communication sector and break with the family legacy and "change the world". That is the reason why I went to the Social Communication Graduate School in Lisbon, where I studied journalism. I was a journalist specialized in culture, specifically in literature. Books, are still today, another of my greatest passions. While I was studying, I made a documentary about the food and conventional livestock sector. It was then all of a sudden, I radically decided to change my diet and lifestyle. I needed to have a clearer conscience and I looked towards veganism and organic lifestyle. While I was searching for other ways to "change the world" one day someone told me about a restaurant and school of macrobiotics. It immediately intrigued me since I was not feeling well with my recent dietary changes. I loved the atmosphere from the very first time I entered that macrobiotic restaurant, I felt the peace and good vibes… It was so different from conventional restaurants that I knew all too well. They served me a simple meal, there was only one option on the menu and many of the ingredients I was tasting for the first time. I liked the food, the simplicity and the discovery of new flavors, aromas and textures. Best of all was that after eating I didn't need any antacids to calm the ulcer I've had since youth. That same day I signed up for a conference about conscious nutrition in the same place. I devoured every word and soon signed up for cooking classes, I read all the books that I found about macrobiotics, philosophy and oriental medicine. I revolutionized my pantry, my kitchen and my environment. 
 I wanted to travel the world, and I abandoned journalism because language was an obstacle to "cross borders" and be able to work in other counties. When in the kitchen, a gesture is worth more than words, onions are cut in the same way and make you cry all over the world. I searched and found a job in different professional kitchens that were related to healthy cooking and vegetable-centered. I worked in cafés, bars, caterings, workrooms, canteens, centers, collectivities, retirement homes and in restaurants with and without Michelin stars. Later I worked for almost four years in event management in Barcelona, during which I didn't cook, and the stress and anxiety drove me to add a new chapter in my professional career and personal life. I felt the necessity to get back to the fields and studied agroecology. I worked first in Valencia and then in Girona. When I moved to the Montseny one of the restaurants in the area wanted to offer healthy and energetic lunch menus, and so I returned to the kitchen. Eventually, when the restaurant closed, the clients asked me to teach them the healthy eating we were serving in the restaurant. I started giving cooking classes that were very well received but I felt in order to continue I needed to study dietetics and nutrition. I combined the studies of dietetic and nutrition with additional studies of macrobiotics and oriental medicine and later in cooking applied to diet therapy. I founded MacroSeny – education and consultancy in healthy and therapeutic cuisine to offer cooking classes, talks, conferences, advising and eco–caterings. For three years I was part of the Healthy Cuisine arm of the Consortium of Welfare of the Deputation of Girona. 
 Currently I collaborate with media and companies of the organic sector in the creation of content about healthy eating and organic gastronomy. I am a regular teacher at Terra Veritas, the education space of the organic lifestyle of Veritas supermarkets. In addition to a cooking professor, I co-coordinate the cuisine and organic and therapeutic dieting master at the EconSentidos school in Madrid. I greatly enjoy teaching and inspiring future chefs specializing in healthy cuisine at Bellart, professional cooking and pastry school in Barcelona. I am a trainer in organic cuisine at the Emplea Verde program promoted by the Biodiversity Foundation and coordinated by the Healthy Life Association in Madrid, Catalonia, Andalucía and the Canary Islands. I collaborate with many restaurants such as, l'Avern, la Taverna de la Clau in Sant Celoni… and to sum up because I do so many things… I am very happy to be an ambassador of the Delicious & Sons brand, a family company with whom I share ethical values and the desire that healthy and flavorful foods become more extensive and inclusive. 
You can follow Alf: 
Instagram: @alfmota
Facebook: @MacroSeny
Twiter: @MacroSeny