Ingredients:
14oz. Pasta (spaghetti, bucatini or fettucine)
8oz. ground plant-based meat substitute or textured soy or vegetable protein
2 oz onion
2 oz carrot
2 oz celery
1 garlic clove
1 c. red wine
Grated parmesan cheese
Oregano, salt, and pepper
Preparation:
Bring large pot with salted water to a boil for the pasta.
Finely dice the vegetables into as small pieces as possible, all the same size, and sauté in olive oil 5-6 minutes until tender.
Add the plant-based meat substitute (break apart or chop so as to resemble ground beef), and mix with the vegetables. Salt and pepper to taste and add oregano.
Add the red wine and let evaporate.
Sauté another 3-4 minutes, on medium heat and then add the Olive and Tomato Sauce.
Lower the heat and simmer for another 5-7 minutes.
At the same time when you add the tomato sauce, add the pasta to the boiling water cook the pasta to al dente according to its indications. When cooked, strain the pasta but do not rinse.
Mix the sauce with the pasta and serve hot.
Decorate with grated parmesan cheese.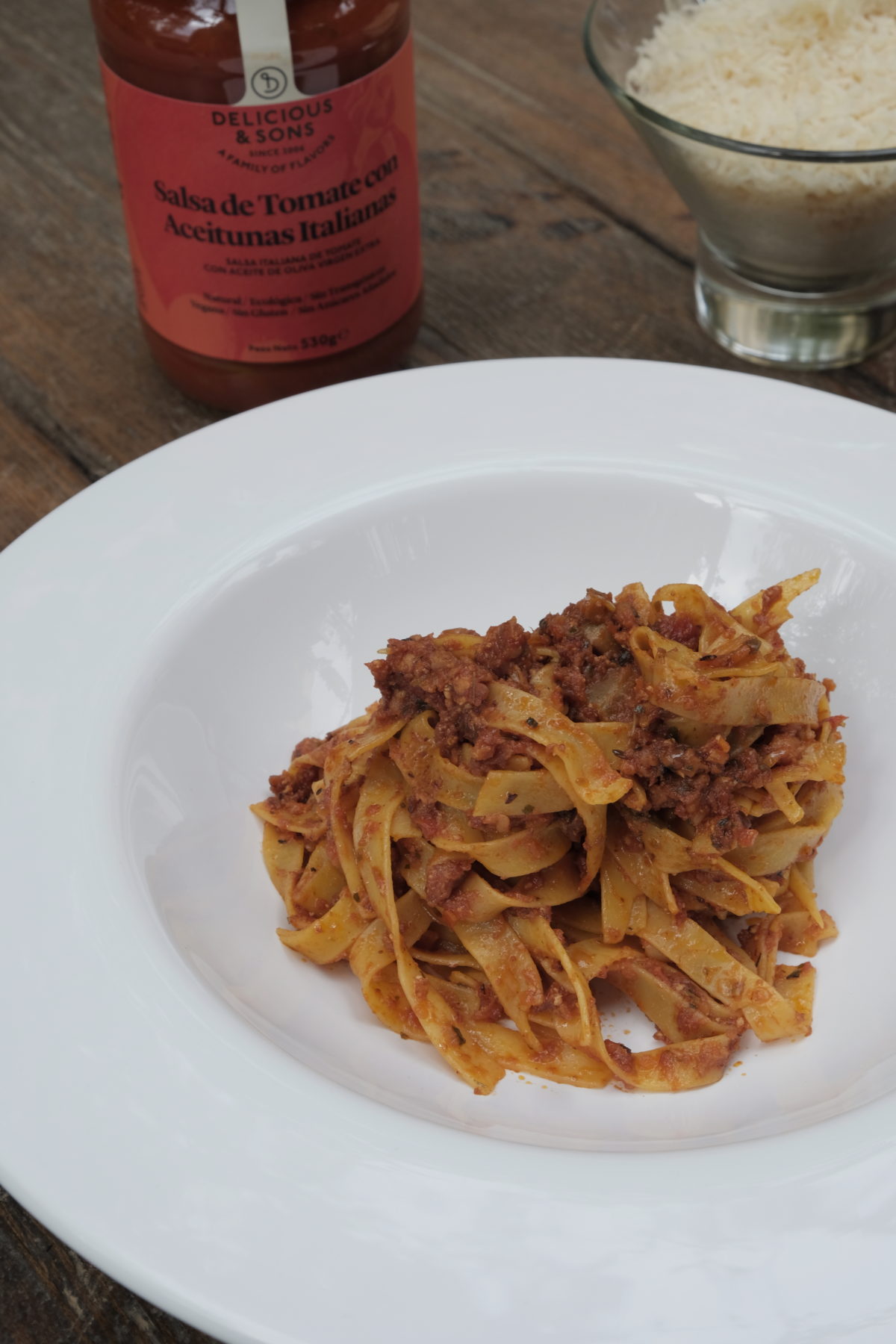 Notes: When using a plant-based meat substitute, if you can't find it in ground beef form, you can break apart or crumble a hamburger to resemble "ground beef". If using textured soy, following its indications which usually include soaking in warm water, and then chop into smaller piece if necessary, to resemble "ground beef".
This site is registered on
wpml.org
as a development site.