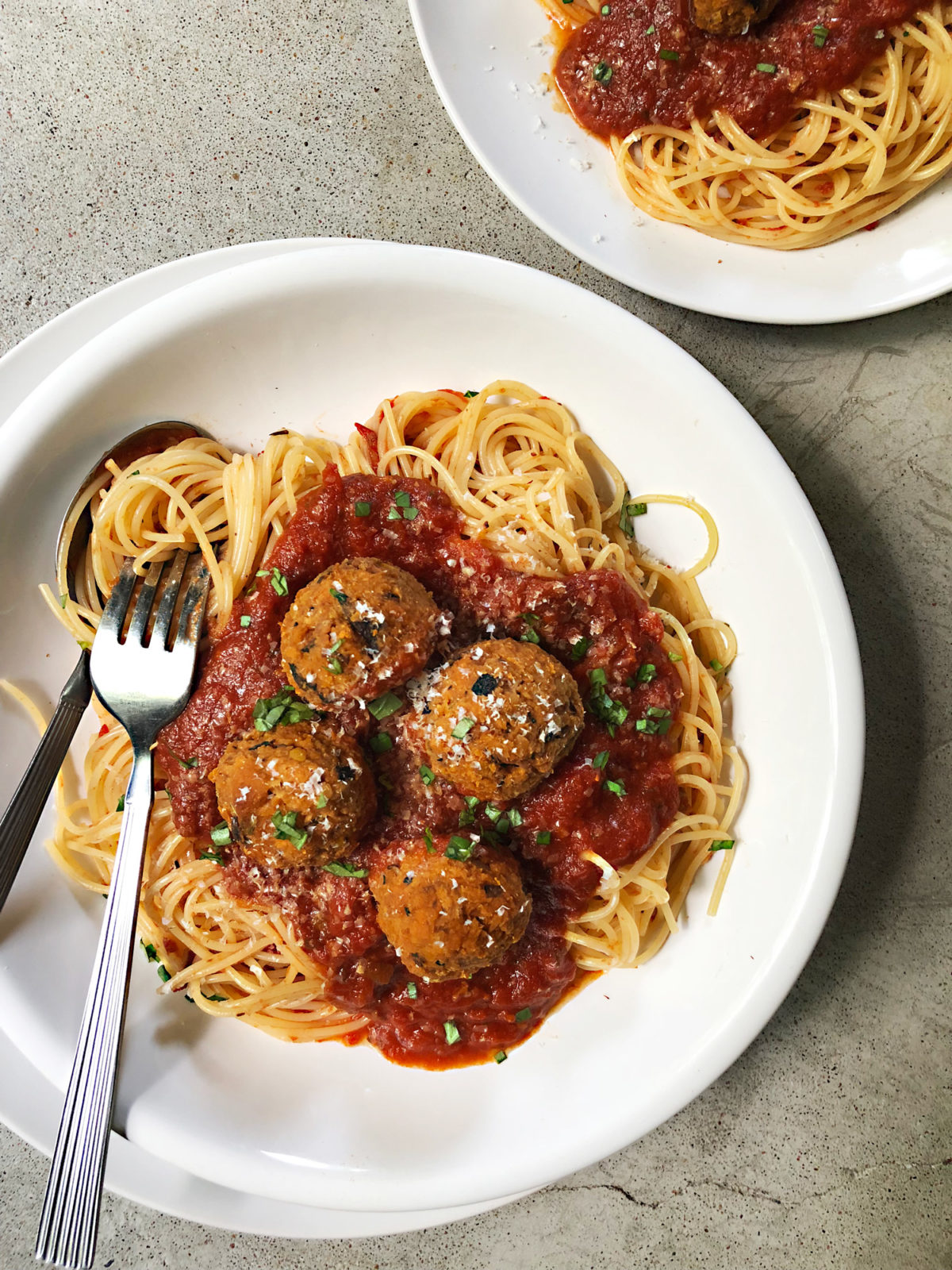 Ingredients:
1 medium eggplant, cut in half lengthwise
6 tablespoons olive oil
1 ¼ cups red lentils
1 large yellow onion, small diced and divided in half
¼ teaspoon plus 1 ½ teaspoon fennel seeds
¼ teaspoon plus 1 ½ teaspoons paprika
10 coriander seeds
½ lb. shiitake mushrooms, small diced
3 garlic cloves, minced
3 tablespoons tomato paste
¼ cup red wine
1 teaspoon tamari
1 cup rolled oats, ground
pinch of cayenne pepper
1 ½ teaspoons sea salt
1 lb angel hair pasta
¼ cup fresh basil, chopped
20 raw almonds (optional)
Preparation:
Preheat the oven to 400 degrees F. Line a baking sheet with parchment paper. Place the eggplant on the baking sheet with the skin side down. Brush both sides with about 1 tablespoon olive oil. Roast in the preheated oven until softened, about 30 minutes. Remove from oven and scoop out insides of eggplant.
Rinse the lentils and place in a pot with 4 ½ cups water. Using cheesecloth, make a sachet and wrap up half of the diced onion, ¼ teaspoon fennel seeds, ¼ teaspoon paprika, and 10 coriander seeds. Tie the sachet with a thin strip of cheesecloth. Place the sachet in the pot with the lentils and bring to a boil. Then, reduce heat and simmer gently for 15 minutes or until lentils are tender. Drain well and cool slightly.
While the lentils are cooking prepare the mushrooms. Heat a large sauté pan over medium heat and add 1 tablespoon olive oil. Add the mushrooms, minced garlic, and a pinch of salt and cook until they just begin to brown, about 5 minutes. Then, stir in the tomato paste and cook for one more minute. Deglaze pan by adding wine. Cook until the liquid is all absorbed.
Add the eggplant, lentils, and mushrooms to a large mixing bowl. Add the rest of the diced onion, 4 tablespoons olive oil, tamari, ground oats, 1 ½ teaspoons fennel seeds, 1 ½ teaspoons paprika, cayenne, and sea salt. Stir until everything is combined. Place in the fridge for 30 minutes.
Lower heat of oven to 375 degrees F and line baking sheet with parchment paper. Form balls using a melon baller and your hands, place them on the baking sheet and bake for 20 minutes, or until they turn brown.
Take out of oven and lightly brush with olive oil. Turn up oven to 500 degrees F and continue to bake for an additional few minutes.
While the polpette are baking, prepare your pasta as per package instructions. Heat the Tomato & Porcini Mushroom Sauce in a medium pot.
To serve, place pasta on a plate, top with tomato sauce and polpette. Garnish with basil and grated almonds.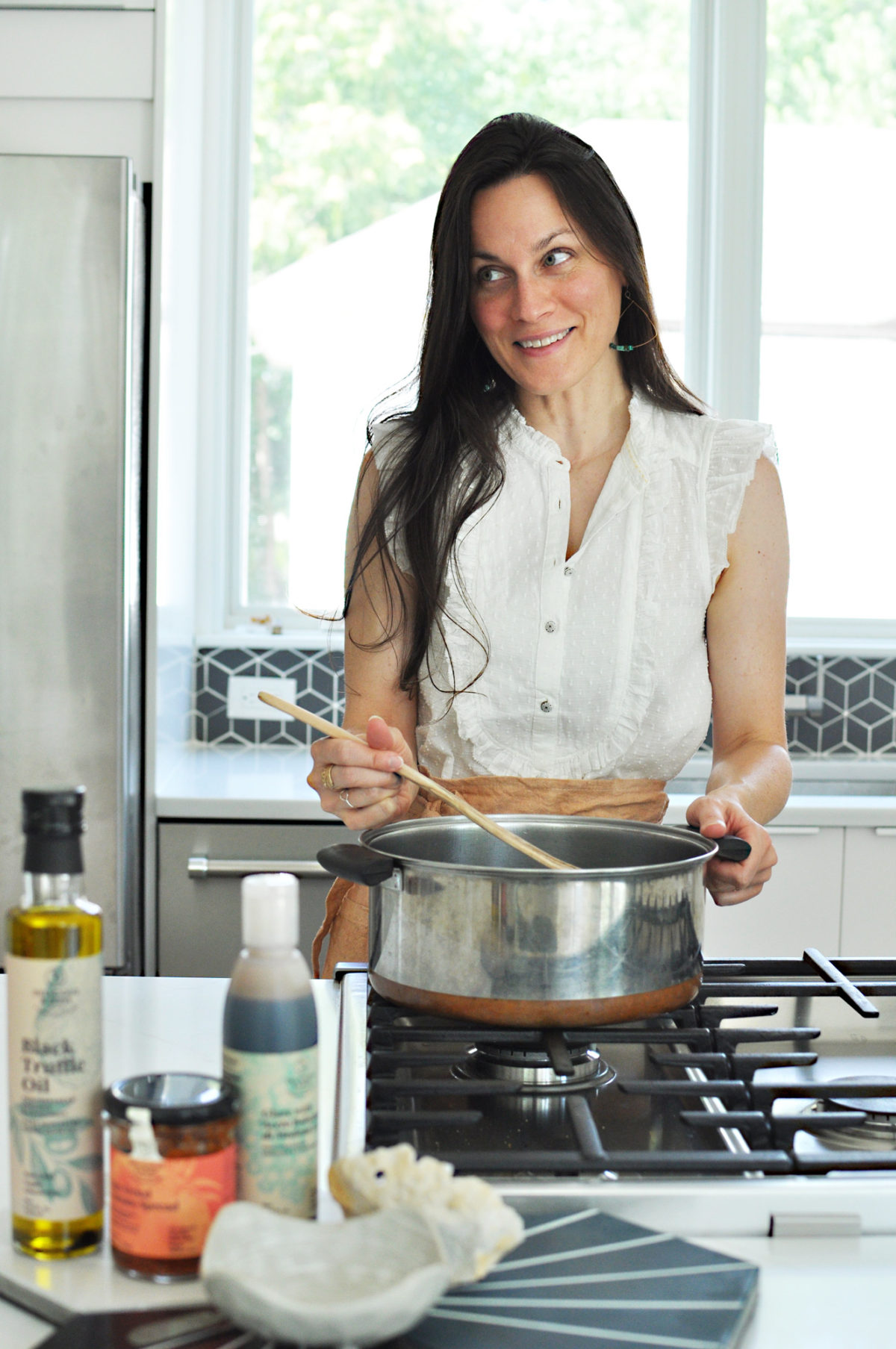 This site is registered on
wpml.org
as a development site.